Palmetto Dunes Tennis & Pickleball Center

Palmetto Dunes Oceanfront Resort features an award-winning tennis and pickleball center. The resort offers packages and special offers for visitors, whether they are staying in a Hilton Head vacation rental at Palmetto Dunes or are just coming for an afternoon on the courts. Have your hand at a game or take a lesson from the pros at Palmetto Dunes Tennis and Pickleball Center
There are 21 clay tennis courts and 16 pickleball courts at the Palmetto Dunes Tennis and Pickleball Center. Four tennis courts and all pickleball courts are lighted for evening play until 11 p.m. You can book a court by the hour, which ranges from $20 to $40. Lighted courts are available on a first-come, first-serve basis.
PALMETTO DUNES TENNIS
Palmetto Dunes is known globally for its tennis programming, which includes clinics and lessons from highly experienced professionals for both children and adults. Adult programs include cardio tennis, competitive doubles clinic, competitive edge drills, grand slam clinic, and more.
For younger tennis players, Palmetto Dunes offers a Hilton Head Island Junior Tennis Academy, short shot clinic, and super shots clinic.
The center offers 36 adult clinics on a weekly basis plus seven round-robin competitions. During the peak season from March to September as well as during the holiday season, there are an additional 20 junior clinics offered.
PICKLEBALL AT PALMETTO DUNES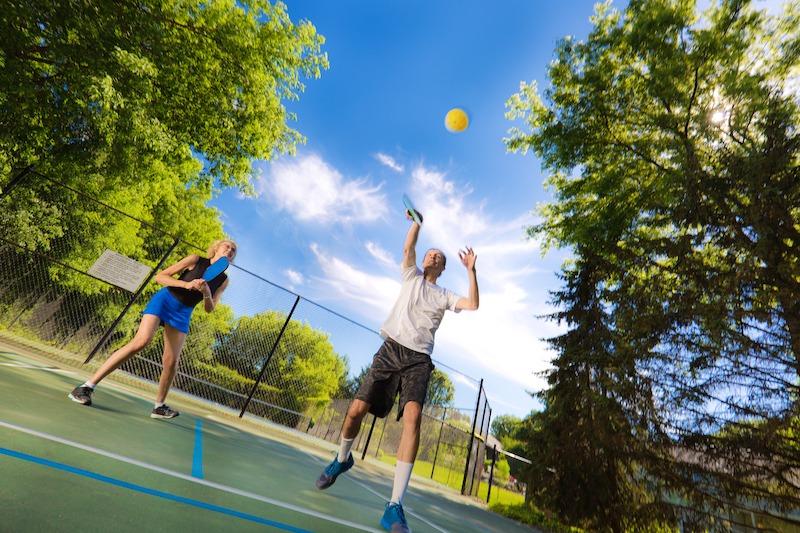 Pickleball is among the fastest growing sports in America.
Combining elements of badminton, ping pong, and tennis, pickleball is an easy sport that offers a fantastic workout. It's a quick, fast-paced game that is appropriate for all skill levels and ages.
The 16 pickleball courts at Palmetto Dunes are available for night-time play. The resort also offers pickleball round-robin competitions, group clinics, and lessons.
PALMETTO DUNES TENNIS AND PICKLEBALL CENTER ACCOLADES
Ranked by Tennis Magazine as one of "The 50 Greatest U.S. Tennis Resorts"
Ranked No. 4 globally for instruction and programming
Ranked No. 3 globally for overall children's programs
Ranked No. 2 globally for best tennis pro shop
Among Top 25 in the world overall by Tennis Resorts Online
PLAN YOUR HILTON HEAD ISLAND VACATION
Beautiful year-round weather on Hilton Head Island provides a perfect setting for a round of tennis or pickleball. The Palmetto Dunes Oceanfront Resort boasts one of the best facilities in the world. Book your Hilton Head vacation rental to start planning today.